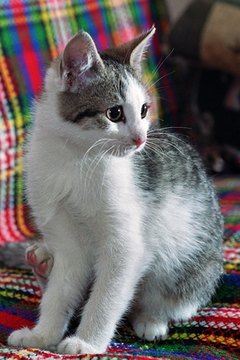 Items you will need
Detergent

Small washcloth

Rubber Gloves

Dust Mask
Odor bombs, or "foggers," are commonly used to eliminate unpleasant smells from fabrics, including carpets and upholstery. An economical alternative to professional services, odor bombs spray fog-like disinfectant from a pressurized canister, and require that the treated area be evacuated for at least two hours to avoid the dangerous consequences of exposure to harmful ingredients. These products are especially effective against the acrid scent of cat urine.
Pour a quarter-sized drop of detergent onto the washcloth, and dampen it with water. Use circular motions to rub out the urine stain, creating a light lather. Rinse the washcloth and use it to wipe the soap off the treated area.
Uncap the odor bomb and place it on a flat surface in the room being treated, with the nozzle facing away from you. Depress the valve until it locks into the "fogger" position catch; leave the room immediately and do not return for at least two hours.
Open doors and windows to ventilate the room for 30 minutes after you return. Place the washcloth over the top of the canister to pick it up; remove the empty odor bomb and discard immediately.