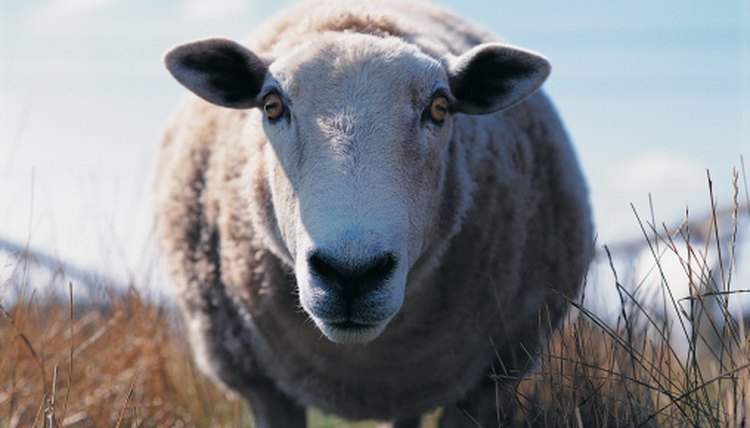 Items you will need
Measuring tape

Heavy duty cotton canvas fabric

Scissors

Sewing machine

Thread

Iron

Buckles
A sheep blanket protects a sheep and her fleece from dirt and debris. This protection is especially useful if you plan to sell the wool from your sheep; you can purchase sheep blankets at farm suppliers, but it is sometimes less expensive and simpler to make your own.
Measure your sheep, starting at the back of her neck and going down the back to just above her tail. Call this measurement A. Measure from her left shoulder, over her back to her right shoulder; call this measurement B.
Cut a piece of heavy duty canvas fabric that measures A by B plus 1/2 inch on each side. Cut two more fabric strips that are each B long by 3 inches wide.
Fold under each long side of the canvas fabric toward the wrong side by 1/4 inch, then 1/4 inch again, and press with an iron. Sew a straight seam along this fold using a sewing machine, placing your seam as close to the inner folded edge as you can.
Repeat step three with the short edges of the canvas to finish those edges.
Take one long strip of fabric and fold it in half lengthwise, lining up the raw edges. Sew a straight seam down this long side and then turn the strip right side out. Topstitch down both long sides, placing a straight seam 1/4 inch in from the outside edges on each of those sides. Repeat with the second strap.
Lay the blanket flat on a table. Place one short end of one strap against the left side of the blanket, centered along this side and so that the raw edge of the strap overlaps inside the blanket by 1-inch. Sew a straight seam across the strap to connect it to the blanket, then repeat with the other strap on the right side. The blanket should now resemble a saddle of sorts, with straps hanging off either side.
Thread the open end of one strap through the center of a buckle, folding the strap back onto itself. Sew across this point to attach the buckle to the strap.
Fold under the raw short edge of the final strap by 1/4 inch, then 1/4 inch again. Sew this down with a straight seam to keep it from fraying.
Photo Credits
Digital Vision./Digital Vision/Getty Images