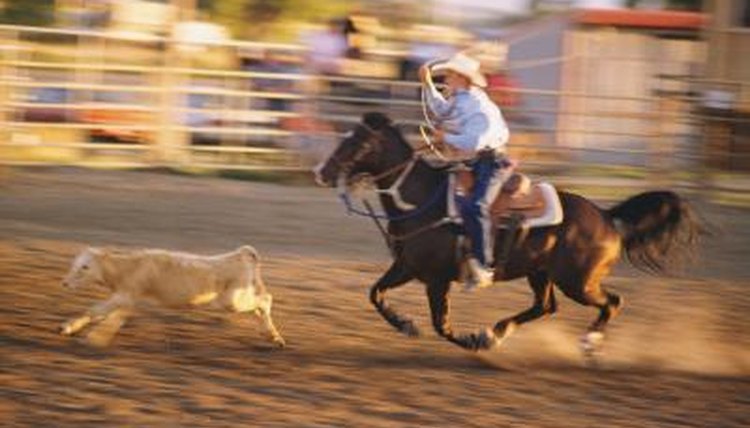 Horse bell boots helps protect the delicate make-up of the horse's foot and leg. When a horse lopes, runs or trots he will often overreach or clip the back of his front foot with his back foot and cause damage. There are two types of bell boots: pull on and Velcro. Each type provides ample protection when working, exercising or riding your horse.
Pull on
Step

1
Hold the bell boots with both hands. Flip them inside out.
Step

2
Stand to the side of your horse's leg. Pick up his foot and turn it so you see the bottom.
Step

3
Slide the bell boot over his hoof, starting at the frog and working toward the large part of the hoof. It gets tight where the hoof is larger, so stretch the boot and pull it over the hoof.
Step

4
Put the horse's hoof back down on the ground. Flip the bell boot back to its original shape. It should cover the back of the heel.
Velcro
Step

1
Kneel down beside your horse's hoof. For instance, if you are putting the boot on his front right leg, stoop below his right shoulder. Never stand in front of or behind your horse.
Step

2
Cup the thick, bulbous part of the bell boot in your hand with the Velcro straps facing up.
Step

3
Hold the boot at the back of the horse's hoof just above his heel. The thick part of the boot fits into the dip above his hoof. Attach the Velcro on the front of the boot over the top of the hoof.
Warning
⚠

Make sure you have the right size for your horse's hoof. Boots that don't fit well may be hazardous. Do not over tighten the Velcro boots. It will cause them to ride up on the ankle.
Photo Credits
Jupiterimages/Photos.com/Getty Images