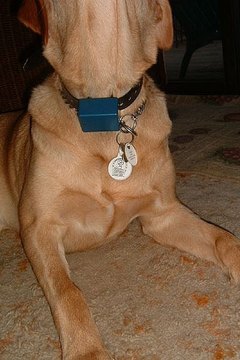 Training a dog with a shock collar, or electronic training device, is relatively easy, as long as some easy guidelines are followed. If the owner of the dog does not know how to train with an electronic collar, emotional damage can be done to the dog that may or may not be repairable. This type of collar should only be used if positive reinforcement of training is not being effective. This may be because the dog is extra hyper and the safest thing for both the dog and others is to make sure the owner has control of them.
Purchase a collar that has various levels of correction available, including a tone button. A collar with a longer range is helpful. Charge the collar as the manual instructs.
Put the collar on the dog for a few days without turning it on so that the dog does not relate the new collar with the correction. You don't want your dog to be collar smart, which means they will only be good when the collar is on.
Never let the dog see you use the handheld correction device. You don't want the dog to relate the shock to you. You want to be the "safe place" they will come running to.
When the dog is misbehaving, give them a direct and heartfelt "No!" If the dog does not obey, secretly give a lower correction rate. When they stop in confusion of what just happened, call them to you and say, "Good boy, Charlie, come!" They will come running to you as the safe place.
If they do not stop the bad behavior at the first correction, increase the correction one notch, and repeat Step 4 until you get their attention. You should not need to use a correction very much after the initial tim; hitting the tone button should suffice.