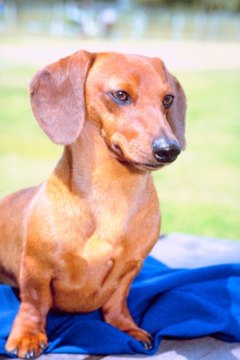 Items you will need
Length of 3/4 inch PVC pipe

4 PVC elbows

4 PVC T shapes

Handsaw or hacksaw

PVC glue

1 yard of fabric (mesh, vinyl or canvas)

4 threaded caster wheels

Memory foam

Sewing machine
The funny, long bodies of dachshunds unfortunately have a downside. The dachshund breed is susceptible to back injuries due to the length of their body. The back injuries often affect their back legs, causing them to have mobility issues. Jumping on and off furniture and not supporting the dog's body when being lifted can also contribute to back injuries. Dog wheelchairs or carts are often pricey. A homemade version can be made in an afternoon with supplies purchased at a hardware store. After a few hours, your little wiener dog will be scurrying around as usual; this time in his new cart.
Measure the length of your dachshund's back legs. This will determine how high you will make the cart, as the front legs will have to pull it and will need to be the same height.
Use the leg measurement to mark the correct length on the PVC pipe. Cut four lengths using the height of the legs using the hacksaw or handsaw.
Measure the width and length of the dog. The width will be the width of the cart. Give the dog a little room on each side so it does not chafe its skin when moving.
Cut two pieces of PVC using the width measurements. These will be crossbars at the top and bottom of the cart.
Cut four pieces of PVC to the length of the dog.
Measure the length of the dog from behind his front legs to the end of his rump.
Cut a piece of fabric that measures the length of the dog plus 2 1/2 inches to each side by the width of the cart with 2 1/2 inches added to each side. This will give you room to sew pockets for the PVC pipes and for the seam allowance.
Sew the fabric with a 1 inch pocket or loop on each side for the PVC pipes.
Thread the side pieces of PVC into the side pockets in the fabric. Slide the cross pieces of PVC into the top and bottom pockets.
Assemble the cart by gluing the frame together using the elbows to connect them. Use the T shapes for the crossbars.
Thread the wheels in ends of T-shaped PVC pieces.
Cut a piece of memory foam to pad the cart for the dog's comfort. Place in the cart.
Photo Credits
Jupiterimages/Photos.com/Getty Images