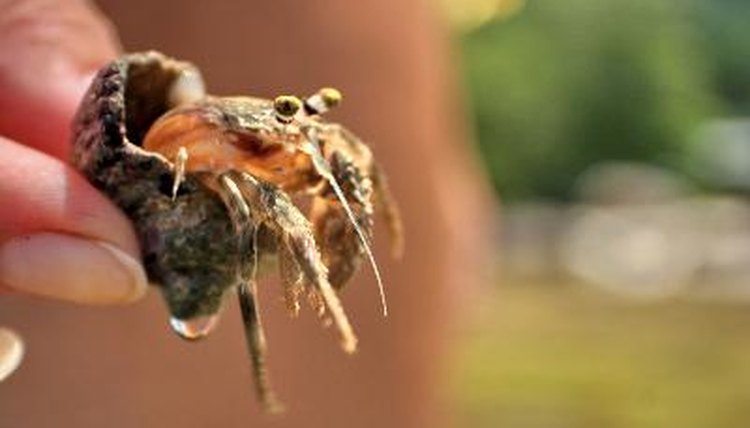 Hermit crabs are noctural creatures with a variety of personalities. You may have a rather inactive little guy that sleeps a lot and moves very little. To check him during daylight hours, this may require some nudging on your part to wake him. Just remember to avoid the grumpy pinch.
Step

1
Pick your hermit crab up by its shell and place it in the palm of your hand. Keep your hand stretched taut; once the crab wakes up, he may decide to pinch you out of self-defense. Continue to hold him and talk softly to him until his natural curiosity kicks in and he begins to move about.
Step

2
Mist the hermit crab with a spray bottle of dechlorinated water. You are already doing this several times a day to help keep him moist and provide humidity in the tank. Two or three small squirts, at most, should wake him up.
Step

3
Check the temperature and humidity inside your crab's home. They require a temperature of 65 to 85 degrees Fahrenheit and high humidity. Without this, they may become inactive, withdrawn, sick -- and hard to wake. Make any necessary adjustments to keep your little guy comfortable.
Step

4
Bathe your hermit crab to wake him. Gently flip your pet over and dunk him in his water dish. Room-temperature water will get his attention but not shock his system.
Items you will need
Spray bottle of water

Water dish
Tip
💡

Hermit crabs are social; with other friends in the tank, they will sleep less and become more active.
Warning
⚠

Some owners blow gently on hermit crabs to wake them. Pinching can occur if you get your face too close to his shell.
Photo Credits
Hand holding a hermit crab image by Oleksandr Bondar from Fotolia.com