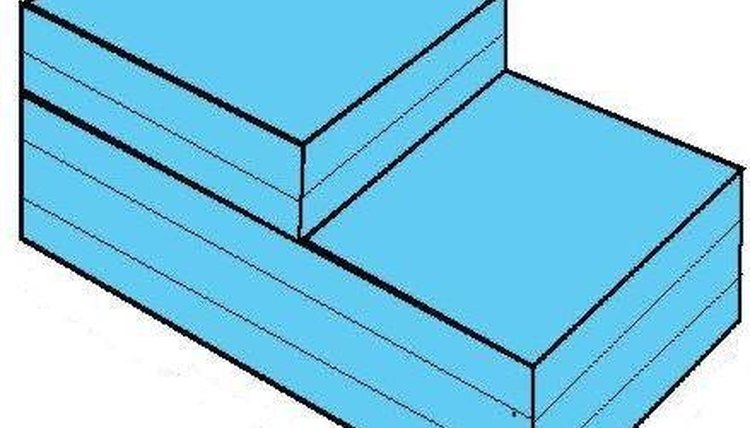 Items you will need
4 Styrofoam sheets 18-inch by 36-inch by 1-inch

Ruler

Pencil

Hobby knife or utility knife

Glue

Paint

Aerosol non-skid coating

2 remnants of Astroturf or indoor/outdoor carpeting, 18-inch by 18-inch (optional)

Carpet glue (optional)

Stapler
When your old dog gets to the point that he has a hard time getting in and out of the car, neither of you will be happy just leaving him home. The only alternative is to provide a way for your pet to get in and out of the vehicle comfortably. Commercially built dog ramps and steps are heavy and expensive, and you need something portable, and preferably inexpensive. You can build this lightweight doggy step quickly and easily, and you won't need to be a carpenter or an engineer to do it. The materials are very cheap. In fact, the pieces are small enough that you may even be able to find scraps that will work for you.
Use the ruler to find the center of the 36 inch side of one of the styrofoam sheets. Mark a dividing line all the way across the sheet, and use the utility or hobby knife to cut it into two 18-inch by 18-inch squares.
Coat one side of one of the 18-inch by 18-inch sheets with glue, and then press the matching sheet firmly to the glue. Make sure that all four sides are even. Set this foam block aside and put a book or something heavy on top of it until the glue dries.
Glue the three remaining 36-inch by 18-inch sheets together in the same manner. Set this block aside, weight it and allow the glue to dry thoroughly.
Coat one side of the 18-inch by 18-inch styrofoam block with glue, and press it firmly onto the top of the 36-inch by 18-inch block, all the way to one end. All of the ends should line up nicely. Weight the glued section down and allow the glue to dry completely.
Paint the entire set of doggy steps. Allow the paint to dry, and apply aerosol non-skid coating to the flat upper surfaces according to the instructions on the can. The non-skid coating will provide your dog with necessary traction on the painted styrofoam sheets.
Use carpet glue or a stapler to add remnants of astroturf or indoor/outdoor carpeting to the upper surfaces of your doggy steps, if you don't like the painted finish.