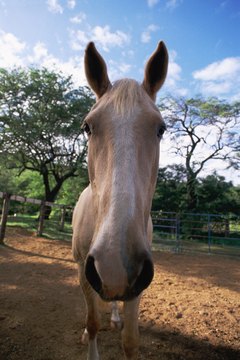 Items you will need
Hose

Sweat scraper

Horse slinkie

Turnout sheet

Coat-darkening supplement

Salt block

Coat conditioner with sunscreen
The warm, bright sun of summer is an enticing reason to get out and ride, but those powerful rays will bleach the deep golden pigment from you palomino horse's coat. Prolonged exposure to sunlight strips the melanin from the coat, lightening the color and leaving the hair dry and brittle. A few tools and a little planning will restore your palomino horse's coat to its former rich, golden glory.
Stall the horse during the day to cut down on sun bleaching. Keep the horse stalled until after sunset, and turn him out at night to give him plenty of exercise and alleviate boredom.
Rinse the horse thoroughly after each ride. Turn on the hose and start at the legs, moving up toward the back and neck as you rinse. Rub the coat with your hands to loosen caked-on dirt, and scrape the horse with a sweat scraper to remove excess moisture.
Fit the horse with a slinkie and turnout sheet if the horse must be out in the sun. Unzip the slinkie and slide it over the horse's nose, pulling it firmly over the head and down the neck toward the shoulders. Set the sheet over the horse's back, buckling it at the front of the chest and under the legs. Clip the slinkie to the small rings on the chest and shoulders of the sheet. Remove the slinkie and sheet overnight, and reapply before sunrise.
Add a coat-darkening supplement such as Black as Knight or Gold as Sun. Darkening supplements help darken and add depth to your palomino coat, and add softness and shine. Follow the dosing directions on the label for best results.
Place a salt block in your horse's pen. Salt is a necessary mineral, and palomino horses with a mineral imbalance have pale, lackluster coats. Set the salt block near the watering trough so the horse stays properly hydrated while licking the block.
Spray your horse with a conditioning sunscreen if you ride during peak sunlight hours. Saddle the horse and spray the neck, shoulder, hindquarters and legs to prevent bleaching and help darken the coat. If you spray under the saddle, it will slip as you ride.
Photo Credits
Stockbyte/Stockbyte/Getty Images