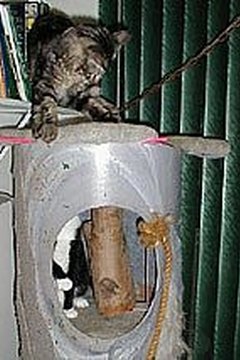 Items you will need
Solar tube

2 Rounds of plywood -- one the size of the solar tube diameter, one bigger for the base

1 x 1 wood cut into 2 - 3" pieces

Nails

Plywood square a few inches bigger than the diameter of the tube

Board to use as a ramp

Decorating and cat scratching covering material like scrap carpeting, heavy fabric, rope etc.

(Carpet tacks, staples and glue for mounting coverings)
Building a cat play house is a fun and easy project. This one is made out of easy-to-find materials from your local home or hardware store. Mine has lasted more than 15 years with heavy use. The cats love it.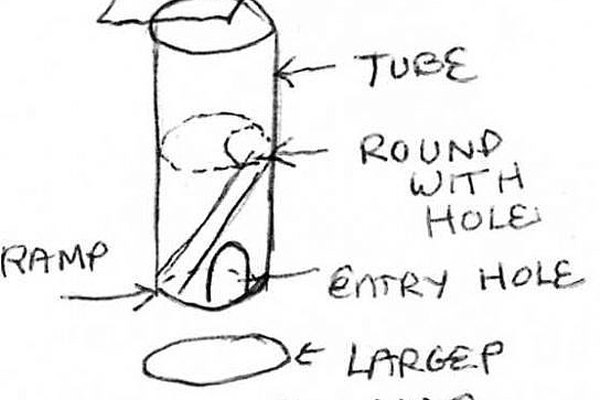 Choose the size solar tube you want to work with. These are heavy cardboard forms that are used for pouring concrete columns. They are inexpensive and come in an assortment of sizes.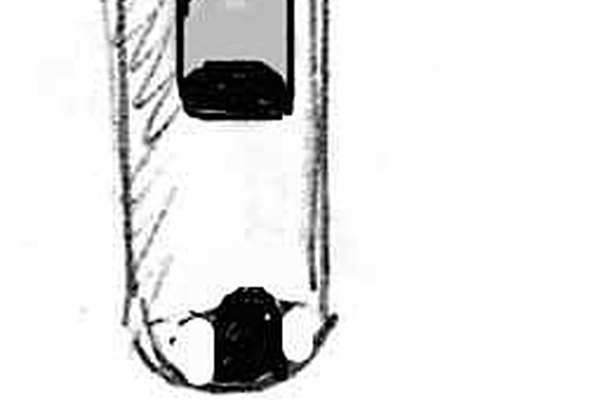 Cut a large mouse-hole entry at the bottom of the tube large enough for a cat to slip in and out of. Then cut a bigger hole in the front of the tube about 2/3 to 3/4 of the way up as a big window/doorway.
Buy one plywood round the same diameter as your tube. Cut a passage 'bite' out of it. This will be the 'floor' of the upper interior level.
The cat can come in the bottom, climb a ramp through the notch in the upper 'floor' or he/she can enter by the big window/doorway cut into the upper part of the tube. Nail several small pieces of 1 x 1" wood around the interior of the tube where you want the circular 'floor' of your cat house to sit. Then slide the cut wooden disk down the top of the tube so it sits comfortably on the nailed-in wooden-pieced supports. I covered my plywood round with carpeting first. You can slip it back out the top if you want to clean or repair it in the future.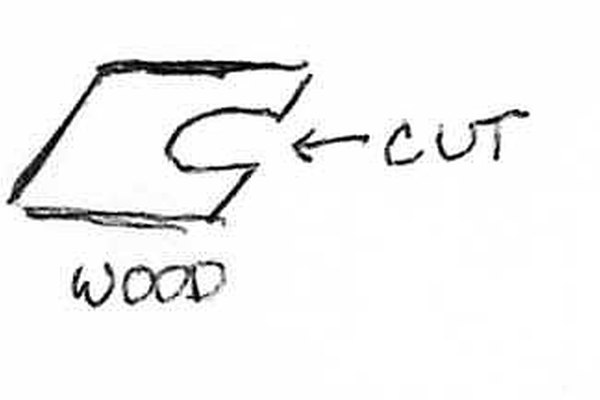 The top panel is just a piece of square plywood covered, again, in carpet scraps. It, too, has a hole in it so the cat can climb through the interior of the tube right out the top and sit high (like cats like to do!). I just sit this on top so it can be removed at any time.
In the bottom interior of the tube I slide in a 'ramp' which is nothing but a plank of wood covered with heavy fabric. As I said, the cat can go in the bottom entry, climb the plank through the hole to the first 'floor'.
Optionally you can carpet the interior of the top floor or add a piece of tree branch, or add another, smaller ramp to lead up from the circular interior upper 'floor' to the hole out the square top.
You can cover your cat playhouse decoratively with scraps of carpet, heavy fabric, screening, rope or other materials that will make it attractive to the eye, yet wonderful for cat claws to scratch on and climb. I leave a couple of ends of rope dangling for more play. And I painted the uncovered areas. In time, the paint has scratched off, but you can always give it another coat.