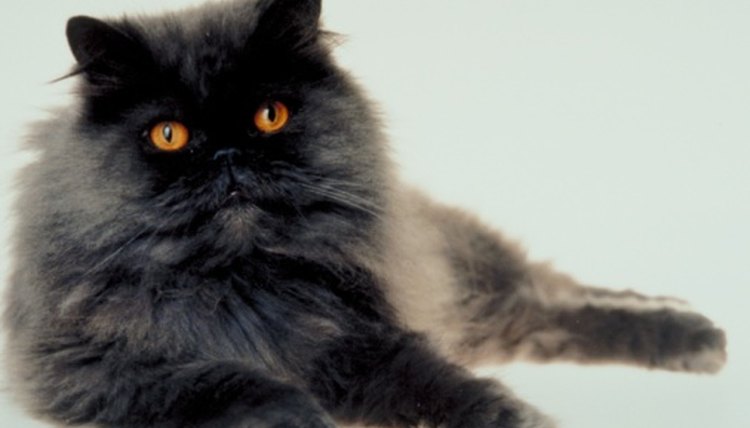 Items you will need
Wood

Screws or nails

Screwdriver or hammer

Wood glue

Table saw

Measuring tape

Staple gun

Handles

Cloth or rag
For many, a pet cat is part of the family; so when the animal dies, honor its memory and lay it to rest by building a custom casket. This cat-sized coffin should be large enough to comfortably fit your cat and be strong enough to carry it to the grave site. Once it's built, decorate the casket with paint, wood stain or wood burning tools to showcase how special your feline was.
Select a wood to create your cat's coffin, such as old pine board or oak. You'll need a board at least 3/4 inches thick, 3 feet wide and 8 feet long.
Sketch the dimensions you'll need to create the casket. If necessary, measure the cat to ensure the animal will be able to comfortably fit inside. A rectangular-shaped casket about 3 feet long, 1.5 feet wide and 1 foot deep should fit most felines. The bottom and lid pieces of the casket should extend an inch or two over the body of the box, so incorporate those measurement into the design.
Cut the board into pieces according to your measurements using a table saw.
Create two L-shaped pieces for the body of the casket by joining a length side-piece with a width side-piece. Use wood glue to secure the boards in place or attach them with nails or screws.
Join the two L-shaped pieces together to create the rectangular body of the casket. They can be attached with glue or nails. Use a damp cloth to wipe any excess glue.
Attach the bottom board to the body of the casket. Align the bottom board so that it evenly covers the sides of the casket. To do this, set one screw or nail in opposing corners to hold it in place before hammering or screwing in the rest of the needed attachments.
Attach two handles to either side of the casket. These can be simple slabs of wood attached with glue and nails, or more decorative trim pieces purchased from a craft or hardware store and secured in place with screws. Ensure the handles are secure and sturdy before placing the cat inside.
Line the cat's casket with a blanket or towel, if you choose. Cut or fold the towel to fit the bottom of the casket and staple, glue or nail it in place.
Nail or screw the lid of the casket in place once the animal is laid to rest inside. Again, ensure all sides of this board are even around the body of the casket.
Photo Credits
Jupiterimages/Photos.com/Getty Images