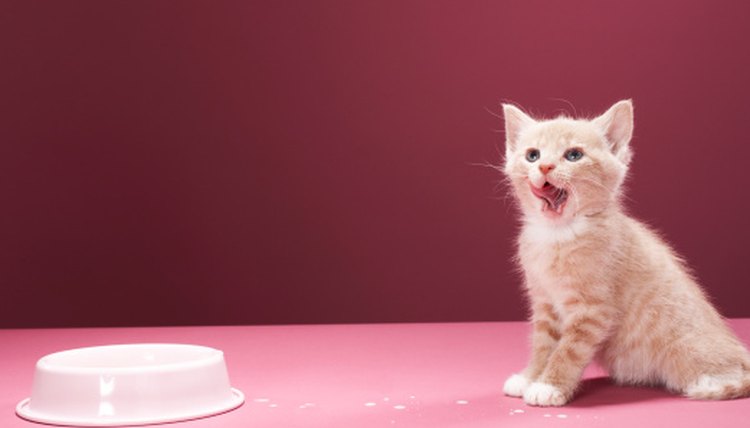 Items you will need
Shallow feeding bowl

Kitten food
Weaning refers to the process by which a kitten goes from mother's milk to solid food. The process generally begins when a kitten is around four weeks old and should be complete by eight to ten weeks. Weaning can begin earlier in the case of orphaned or hand-fed kittens. Pet owners should make the transition as easy as possible for kittens.
Place the kittens in a separate area away from their mother with their own litter box, food and water bowls for one to two hours several times a day. The time away provides incentive to seek alternatives to their mother's milk and decreases general dependency on the mother.
Fill the kittens' food bowl with kitten-milk replacement. Dip your finger into the milk and then let the kittens lick it off before slowly moving your finger toward the bowl. Make sure that the bowl is shallow enough for the kittens to reach. Prepare to continue bottle-feeding kittens that have been bottle-fed, but always offer the bowl first.
Return the kittens to their mother once they have stopped demonstrating interest in the milk replacement.
Mix wet or dry kitten food with the kitten-milk replacement to create a gruel with the consistency of oatmeal once they become comfortable drinking from a bowl.
Decrease the amount of kitten-milk replacement you mix with the kitten food gradually until the kittens can eat solid food. The food should only be slightly moistened with the milk replacement by the time they are between five and six weeks old. They should be able to eat completely solid kitten food by eight to ten weeks.
Photo Credits
Martin Poole/Photodisc/Getty Images