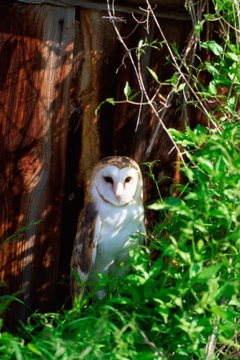 Items you will need
Saw

30 feet of pine lumber

Deck screws or nails

Wood glue

Well-aged wood chips

9-foot long wire or Cable
The most common owls that frequent North America are the Barn Owl, the Screech Owl and the Barred Owl. Planning your nesting box will depend upon the particular owl species you are trying to attract. The Barred Owl is very intolerant of human interaction and will not stay around an area within 100 feet of human activity. The Screech and Barn owls can successfully nest within ten to fifteen feet from human residence. Either way, it is best to position a nesting box away from excessive human interaction.
Draw up a plan for the size of nesting box you wish to build. It has to be big enough for the wood chips, used as the nesting materials, along with the mother owl and her offspring.
Cut each panel needed for the nesting box. The floor should be cut about 22" wide by 23" deep from your pine lumber. Cut two sides about 18" wide by 22" high. The front and back panels should be cut 18" wide by 22". The top should be cut about 23" deep by 24" wide to allow for a one inch overhang.
Fasten the back panel of the box to the side panels with the wood glue and screws or nails for added support.
Cut out a six by six inch opening on the front panel about four inches down from the top. Attach the front panel onto the side panels of the nesting box with the glue and nails or screws.
Drill about 9 small holes to the bottom panel of the nesting box to provide drainage and attach the bottom panel to the four completed sides for a finished box.
Decide whether you are going to hang the nesting box by wire or attach it to the side of a tree or building. If you are to attach the box, use two screws to do so before putting on the roof of the nesting box. If you are going to hang the nesting box, screw on the nine inch wire or cable to the roof of the nesting box.
Glue and screw or nail the roof to the nesting box. Wait for the glue to be completely dried and the nesting box ready for use. Place the aged wood chips into the box. Sit and wait for a mother owl to come and claim the box as her nesting home.
Photo Credits
Jupiterimages/Photos.com/Getty Images