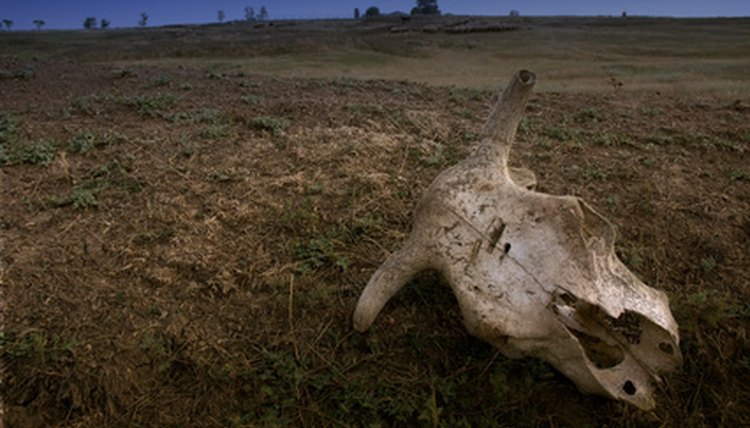 Items you will need
55-gallon oil drum

Angle grinder

Cement

Sand

Water

Five-gallon plastic bucket

Tarpaulin
Cattle need water like any other animal. It is inconvenient to use buckets and troughs, as these need to be checked and filled on a regular basis. Plastic buckets will be knocked over, and metal troughs will be dented and damaged regularly. Cattle will get dirty, and water will be wasted. Concrete is a versatile and useful material. It withstands damage, and it will be a permanent, durable fixture. Create a four gallon concrete cattle waterer to eliminate the problems associated with plastic buckets and metal troughs.
Cut the top and the bottom off the oil drum using an angle grinder. This will form the mold for the concrete.
Mix the cement, sand and water according to the instructions. Ensure that the mold is exactly where you want the waterer. Stand the drum on one end, and pour the concrete into the oil drum until it is half full. Insert the bucket, and pour concrete around it. Make sure the concrete doesn't go over any lips or protrusions on the bucket. This will leave the depression that the cattle will drink out of.
Leave the concrete waterer to dry for three days. Place a tarpaulin over it to protect it from the weather.
Cut open the oil drum carefully with the angle grinder and remove. Remove the bucket from the top. Unless the bucket is broken or an unusual shape, it shouldn't be stuck. Agricultural buckets taper out a little, which makes them easy to get out.
Using a small amount of concrete, smooth over the top of the drinking hole. This will prevent damage to your cattle as they drink.
Let the concrete dry for three more days. Protect with the tarpaulin.
Fill the waterer with water. The cattle can now drink.
Photo Credits
Cow skull laid in steppe landscape image by Denis Topal from Fotolia.com