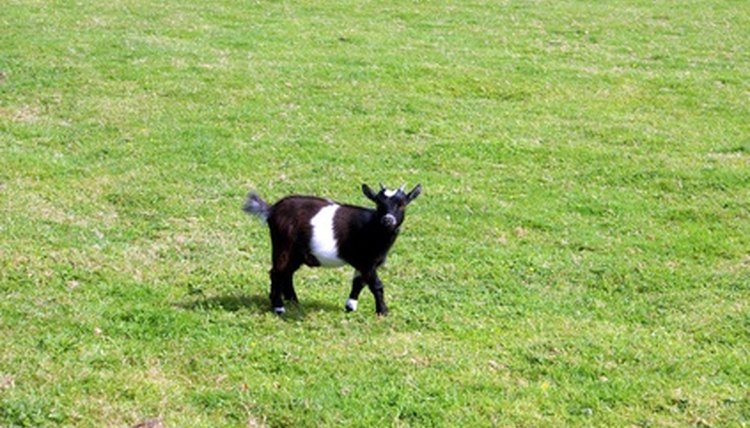 Items you will need
Wooden Pallets of Same Size (5)

Two-inch Wood Screws (30)

Drill or Electric Screwdriver

L-Brackets (6)

Metal hinges (2)

Staple Gun

Staples

Heavy Duty Tarp, about 10-foot-by-10-foot
Raising goats in the backyard or on a small farm can be fun, educational and done as supplemental food or income for your homestead. Whether you raise goats as family pets, for their milk and cheese potential, or for their meat, goats are fragile animals. They are highly susceptible to pneumonia and require shelter from extreme cold, rain, snow and wind. Barns and sheds can be expensive propositions for the small farm owner. Building one out of pallets, often available from businesses for free, is an economical solution.
Building the Goat House
Prepare the site. Remove any debris or rocks from building site to establish a level and clean work zone. Move all supplies to the site where the goat house will stand since it will be too heavy to move once assembled.
Place two pallets on their sides and form a right angle. Position the pallets so the height is uniform. Place one L-bracket at each corner and secure it in place with wood screws and the drill or screwdriver.
Add a third pallet to make a u-shaped box. Align all three sides so that the height of walls is uniform. Affix the pallets with L-brackets, wood screws and the drill.
Place the last two pallets on their sides and form a right angle. Connect these with the last pair of L-brackets and wood screws. Stand the completed roof section on its ends to form an inverted "V" shape.
Lift the roof up and position it over the U-shaped box. Place hinges on the top edge of wall and screw it in place with wood screws and drill. Lift the hinge flaps and secure to edge of roof portion.
Spread the tarp over the roof. Center the tarp over the roof's peak, letting the excess material fall down over the triangle-shaped opening formed by the roof and the structure's back wall. Cover all of the openings in the roof pallets. Place staples in the staple gun, and use it to staple the tarp edges to the structure, overlapping as necessary.
Personal experience See comments